A travelogue narrated through bodily effluent. A motorway journey described in the call and response of the full bladder.
A British road movie – Two Lane Blacktop and Wild At Heart reduced to a trail of piss-filled plastic bottles.
Book Title - M1
56 pp / 320 x 240mm
Litho 4-colour process
Embossed cover title
Fold out 8 page softcover
Open spine - Swiss binding
Matt coated art paper.
LTD edition of 300 (signed copies)
Published by Audit
First printing April 2018
ISBN 978-1-5272-1788-1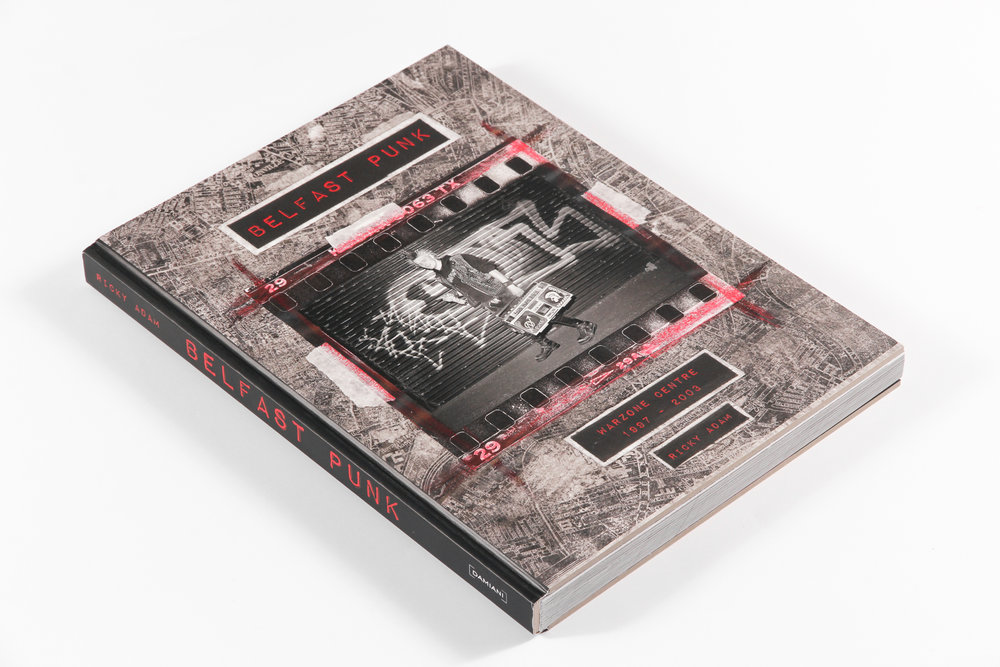 BELFAST PUNK - 'WARZONE CENTRE 1997 - 2003'
The photographs in this book were taken in the city of Belfast, Northern Ireland in a punk D.I.Y. space known as the 'Warzone
Centre' between 1997 - 2003.
After opening in 1984, the 'Warzone Centre' became the counter-cultural alternative hub for the greater Belfast area and beyond. It soon became infamous as being one of the most credible venues in Europe for D.I.Y. punk
Book title -
Belfast Punk (warzone centre 97' - 2003)
Published by 'Damiani'
Author - Ricky Adam
Printed by Grafiche Damiani - Faenza Group SpA, Italy
176 pages
Hard Cover
Printed on heavyweight matt art paper
Dimensions: W: 225mm x H: 300mm
First printing Feb. 2017
ISBN-10: 8862085109
ISBN-13: 978-8862085106
Published by Cafe Royal Books in 2017
Photographs of North Down council workers.
Commissioned by the Arts Council of N. Ireland in 2001
GLAD TO SEE THE BACK OF YOU
'Zine:
A Zine' all about punk jackets
This is the West Yorkshire, U.K. 2013 edition
Published by Trajectories
A5, 48 pages, full colour
digitally printed, perfect bound, Cover - 300gsm, Inside paper - 150gsm
300 first edition copies
*First 50 purchased get a free metal stud
*This item is sold out
DESTROYING EVERYTHING …SEEMS LIKE THE ONLY OPTION
Book:
'Destroying Everything ...Seems Like The Only Option'
1st edition (hardback) published by Holy Land Pros in 2012
2nd extended edition (softcover) published by 'Drago Arts & Communications' in 2013
Author - Ricky Adam
Printed in Italy
200 pages
matt cover with glossy spot varnishing
Printed on heavyweight art paper
Dimensions: 12.5" x 12.5" (220mm x 280mm) 3.5 lbs. (1.6 kg)
ISBN: 978-8888493923